Greetings Stray Blade community,
We are thrilled to announce that the Stray Blade 1.7 update is live on Steam and ready to play.
We included patch notes below.
To celebrate this big patch Stray Blade is currently 20% off on Steam.
https://store.steampowered.com/app/1621990/Stray_Blade/?l=schinese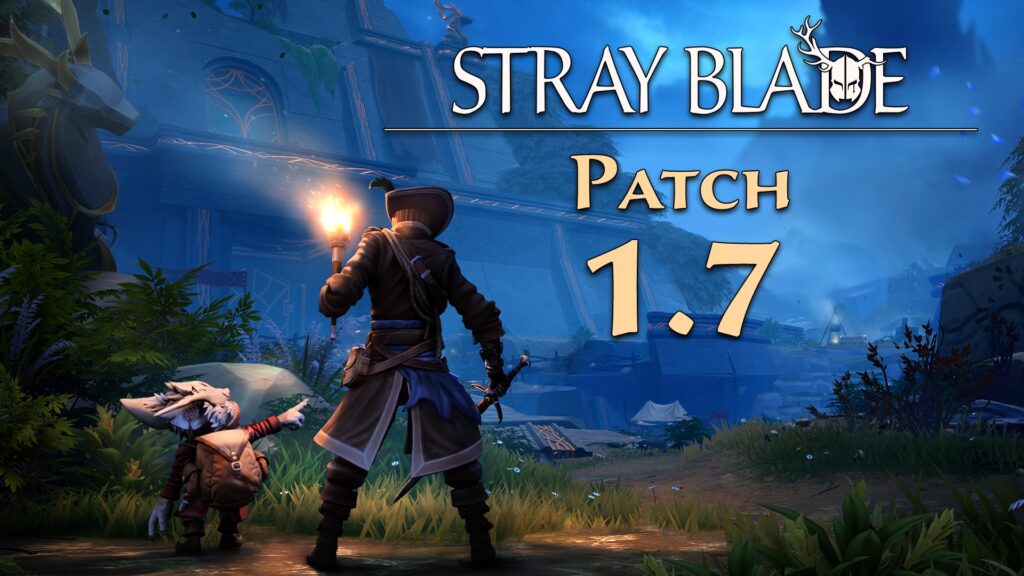 Combat Adjustments
The Combat Rework!
o Attack indicators were removed with associated limitations on defensive actions (except for certain powerful and boss attacks that will still be unparryable, marked by a red glow).
o Increased dodge ranges to increase mobility.
o The Tutorials were adjusted to reflect the combat system changes.
Reduced the camera stutters.
Camera adjustments to make for a more pleasant experience (a.k.a the combat camera doesn't fight your camera input anymore).
Increased weapon mastery speed.
Reduced slow motion effect when getting hit.
Reduced Irakka hitbox sizes, as well as general adjustments (less hp, less charge attack damage).
Fixed target switch not working on Training Dummies in the tutorial.
Increased damage of Rotten Longsword heavy attack and reduced HP of tutorial enemies for smoother first encounters.
Increased radius for perfect dodges slightly again.
Increased poise regens delays of enemies across the board.
Equalized backstab damage to create consistency (with some higher damage exceptions)
Adjusted hitboxes of some creatures (Irakka, Broodmother, Gwar).
Adjusted difficulty presets slightly.
Fixed possibility to cancel knockback death animation with jump.
Fixed Xhinnon general hitboxes, various timing adjustments on attacks and stagger.
Collectibles & Exploration
The Story Note "Creature Studies 3" is not missable anymore.
Corrected subregion display of the Arcane Forge within the Tamed Peaks from "Chilling Passage" to "The Ascent".
Ensured that all Acrean Legacies are not missable.
Added chests containing bone dust within the first half of the Everforest.
Added more crafting stations in the Everforest.
Increased drop rates of crafting resources.
Changed miscellaneous flavor voice lines throughout the game.
Trophies & Achievements
All of these achievements were reported as problematic, and are now fixed in 1.7! We also added achievement re-evaluations on level load to ensure that all players get the unlocks if they encountered the issues before.
o Globetrotter: Find all Flux Fungi.
o Forest Expert: Complete the Everforest to 100%.
o Mountain Lover: Complete the Tamed Peaks to 100%.
o Wasteland Connoisseur: Complete the Seething Wastelands to 100%.
o Explorer by Heart: Complete the Convergence to 100%.
o Sponsor: Skill Boji up to 100%.
Story Notes and Armor chests will now be counted in the Collectible lists on the world map.
Fixed "Shapes in the fog" story note being missable.
Other fixed Issues & Problems
Updated Credits.
Removed Enemy Attack Indicators option from the settings menu.
Fixed the ResolutionScale setting being reset on startup.
Fixed difficulty settings sometimes not being saved.
Have a great time playing Stray Blade and please send us suggestions on what to include in the next Stray Blade update.
If you have a chance then please review Stray Blade on Steam.
https://store.steampowered.com/app/1621990/Stray_Blade/?l=schinese